Gap is the latest retailer to jump on the non-fungible token (NFT) bandwagon, collaborating with InterPop to launch its first collection on the Tezos blockchain.
The limited-edition NFT collection was created in partnership with Brandon Sines, the artist behind Frank Ape, an animated New York City ape that embodies "positivity and equality."
"With this partnership with Gap, the creative cycle has come full circle as it allows me to express the beautiful messages of Frank Ape while collaborating with one of the most classic brands in history," said Sines. "I cannot wait to share the physical and digital pieces we've been working on with Gap and Frank fans worldwide."
Through the gamified digital experience, customers can unlock the opportunity to buy digital art by Sines and a limited edition, physical Gap hoodie. The digital collectibles will feature four levels: Common, Rare, Epic and One of a Kind.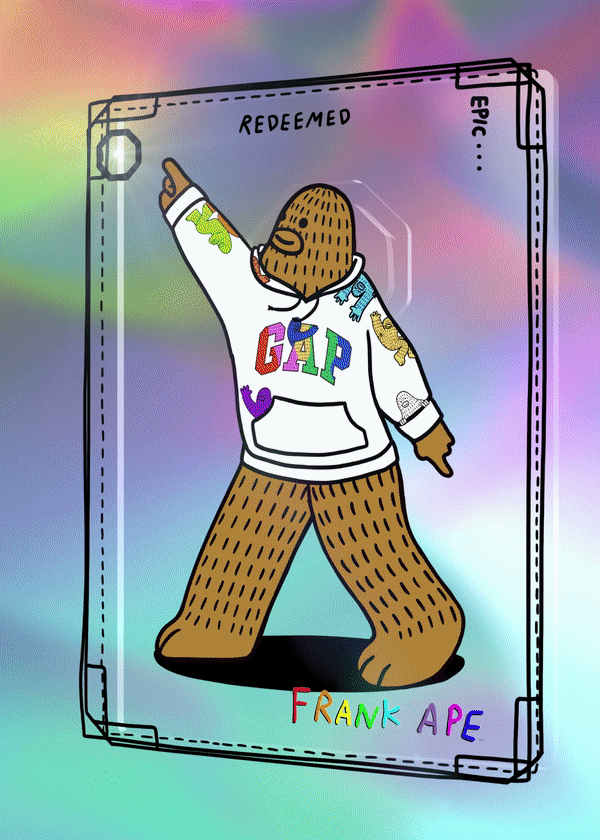 READ MORE: Balmain and Barbie collaborate on ready-to-wear and NFT collections
"Gap has always been at the intersection of music, art and culture, so we are excited about this growth opportunity in the digital space with artists like Brandon Sines," said Gap North America chief product officer and general manager Chris Goble.
The NFT's will begin rolling out through GAP's NFT website on 13 January for equivalent prices that begin around $8.30 and reach up to $415.
GAP chief digital and technology officer John Strain added: "As part of our mission to create enduring customer relationships, our teams are constantly innovating. We are excited about the possibilities that a more planet-friendly blockchain technology can unlock for us and all the new ways it will enable us to connect with our customers."